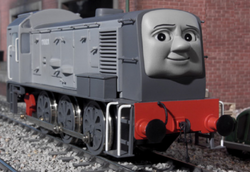 Dennis
Number: 11001
Designer: Oliver V.S. Bulleid
Builder: BR Ashford Works
Configuration: 0-6-0
Speed: 36 mph
Dennis is a lazy Diesel.
Dennis came to Sodor to do some shunting. Though he was extremely lazy and didn't want to do his work. He tried to claim that he had broken down and tried to runaway only to end up coming off the tracks. After he told Thomas the truth, they finished his job together and Dennis has learned not to be so lazy.
Dennis is a very lazy Diesel who tries to take advantage of others and depend on them to do his work. Dennis will always create excuses to get out of work, but usually gets caught in his lies, and is always very sorry - until he finds another opportunity to get out of work again.
Dennis is based on No. 11001, a Bulleid Diesel built at Ashford Works, England in 1949 and scrapped in 1959. He also carries his basis' number.
Dennis is painted light grey with dark grey wheels and roof and a red bufferbeam.
Appearances
Edit
Because Norman is Dennis' twin, Dennis may be returning to the television series soon.
Specials:
He also appeared in tenth and twelfth season learning segments.
Voice Actors
Edit
Merchandise
Edit
Merchandise Gallery
Edit